About Voxler
Click the Help | About Voxler command to display the About dialog. The About dialog contains the version number, copyright date, your serial number, and Golden Software, LLC contact information.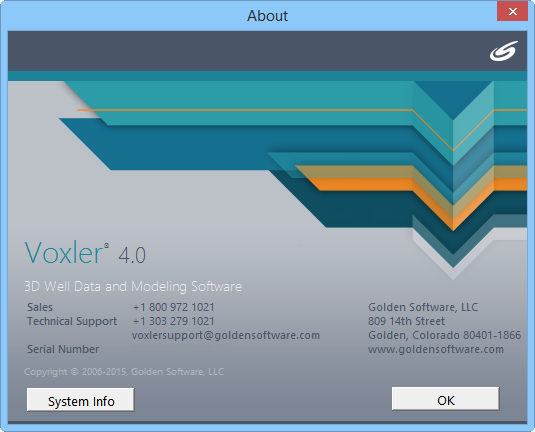 Choose the Help | About Voxler command to view information about your current version of
Voxler and your serial number.
Voxler Version
The version of Voxler you are currently using is listed in the About dialog. Use the Help | Check for Update command to ensure you are running the most recent version of Voxler. Updates (i.e. Voxler 4.0 to Voxler 4.1) are available for no charge.
Company Contact Information
The Golden Software mailing address, sales phone number, and technical support phone number are listed in the About dialog. You can also use the Help | Feedback command to contact technical support.
Serial Number
Your serial number is embedded in the program and located in the lower left corner of the About dialog. Register your serial number to qualify for technical support and Voxler upgrade pricing. Your serial number is also located on the CD cover or in the email received with the download directions.
Golden Software Website
Clicking on this link, Golden Software website, will open the Golden Software home page in a new internet browser window.
System Info
Click the System Info button to open the System File Information dialog. Detailed file information (Name, Version, Date, Size) is available for files In Directory, In Memory, or for All system files. You can view the system file information, or copy the information by clicking the Copy to Clipboard button.
See Also