Worksheet Document
Worksheet windows are a view of the data file and are designed to display, edit, enter, and save data. The worksheet windows have several useful and powerful editing, transformation, and statistical operations available. Several import and export options are available for opening data files from other spreadsheet programs.
Worksheet Commands
The worksheet menu commands include:
| | |
| --- | --- |
| | Opens, closes, saves, and prints files |
| | Contains undo, redo, cut, copy, paste, paste special, clear, insert, delete, find, find next, and replace |
| | Controls the display of toolbars, status bar, and managers |
| | Sets cell formats, column widths, and row heights |
| | Contains commands to sort data, compute statistics, assign projection, reproject data, and calculate mathematical transformations |
| | Adjusts program options |
| | Controls display of the windows |
| | Provides access to help topics |
The Application/Document Control menu commands control the size and position of the application window or the document window.
Tab View
The plot, worksheet, and grid node editor windows are displayed as tabbed documents. When more than one window is open, tabs appear at the top of the document, allowing you to click on a tab to switch to a different window. The tabs may be dragged to reorder them. When a document contains unsaved changes, an asterisk (*) appears next to its tabbed name. The asterisk is removed once the changes have been saved.
Worksheet Document
The image below displays the worksheet document. See the Worksheet Window topic for information on the components of the worksheet window.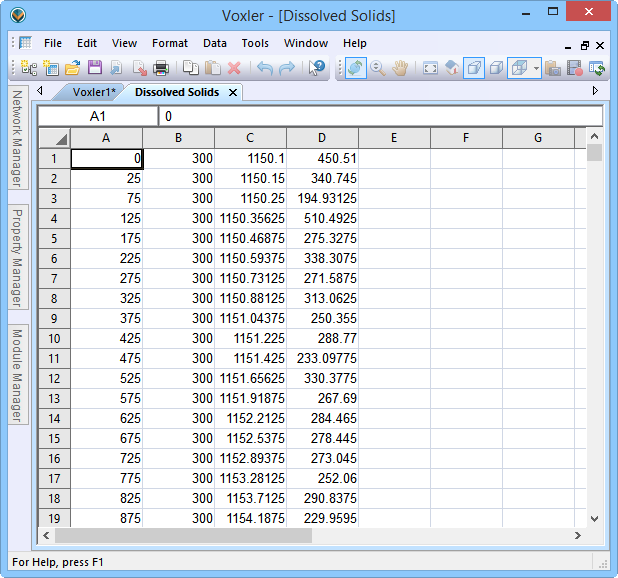 This is the Voxler worksheet document with the Network Manager, Module Manager, and Property Manager
 in auto hide mode on the left, and the tabbed documents at the top of the worksheet.
Other Useful Worksheet Information
Worksheet Error Codes and Special Numeric Values
Worksheet Technical Specifications
See Also